Simplify the ebl_image_edit plugin
In this tip I will show you how to simplify the ebl_image_edit plugin and make it much more user friendly.
What we will do is to add two pieces of codes to the ebl_image_edit plugin, together with some CSS and Jquery that combined will create a custom menu to easily select the predefined sizes, instead of using the regular select-box. Of course you can style it however you want to.
For a better understanding take a look at the before and after image, and corresponding video:
An image: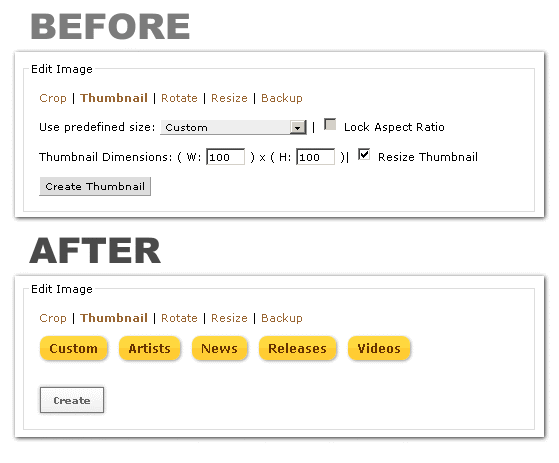 Or a link to a video explanation.
So lets get to it!
Step 1
Go to Admin > Plugins then click on Edit next to ebl-image-edit, look for the closing /style> tag and add the next CSS code before it:
#eblcontainer .eblpsmenu {
	padding-bottom:10px;
}

#eblcontainer .eblpsmenu ul, #eblcontainer .eblpsmenu li {
	list-style:none;
	padding:0;
	margin:0;
}

#eblcontainer .eblpsmenu li {
	display:inline-block;
}

#eblcontainer .eblpsmenu a {
	display:inline-block;
	padding:5px 9px;
	font-size:12px;
	font-weight:bold;
	text-transform:capitalize;
	color:#663300;
	background: #ffd83f;
	background: -moz-linear-gradient(top, #ffd83f 0%, #ffd83f 50%, #ffcc33 51%, #ffcc33 100%);
	background: -webkit-gradient(linear, left top, left bottom, color-stop(0%,#ffd83f), color-stop(50%,#ffd83f), color-stop(51%,#ffcc33), color-stop(100%,#ffcc33));
	background: -webkit-linear-gradient(top, #ffd83f 0%,#ffd83f 50%,#ffcc33 51%,#ffcc33 100%);
	background: -o-linear-gradient(top, #ffd83f 0%,#ffd83f 50%,#ffcc33 51%,#ffcc33 100%);
	background: -ms-linear-gradient(top, #ffd83f 0%,#ffd83f 50%,#ffcc33 51%,#ffcc33 100%);
	filter: progid:DXImageTransform.Microsoft.gradient( startColorstr='#ffd83f', endColorstr='#ffcc33',GradientType=0 );
	background: linear-gradient(top, #ffd83f 0%,#ffd83f 50%,#ffcc33 51%,#ffcc33 100%);
	-moz-border-radius:8px;
	-webkit-border-radius:8px;
	border-radius:8px;
	text-decoration:none;
	-moz-box-shadow:1px 1px 2px #999;
	-webkit-box-shadow:1px 1px 2px #999;
	box-shadow:1px 1px 2px #999;
	margin:1px 11px 6px 1px;
}

#eblcontainer .eblpsmenu a:hover {
	background: #ffcc33;
	background: -moz-linear-gradient(top, #ffcc33 0%, #ffcc33 49%, #ffd83f 50%, #ffd83f 100%);
	background: -webkit-gradient(linear, left top, left bottom, color-stop(0%,#ffcc33), color-stop(49%,#ffcc33), color-stop(50%,#ffd83f), color-stop(100%,#ffd83f));
	background: -webkit-linear-gradient(top, #ffcc33 0%,#ffcc33 49%,#ffd83f 50%,#ffd83f 100%);
	background: -o-linear-gradient(top, #ffcc33 0%,#ffcc33 49%,#ffd83f 50%,#ffd83f 100%);
	background: -ms-linear-gradient(top, #ffcc33 0%,#ffcc33 49%,#ffd83f 50%,#ffd83f 100%);
	filter: progid:DXImageTransform.Microsoft.gradient( startColorstr='#ffcc33', endColorstr='#ffd83f',GradientType=0 );
	background: linear-gradient(top, #ffcc33 0%,#ffcc33 49%,#ffd83f 50%,#ffd83f 100%);
	-moz-box-shadow:1px 1px 2px #333;
	-webkit-box-shadow:1px 1px 2px #333;
	box-shadow:1px 1px 2px #333;
}

#eblcontainer .eblpsmenu a:focus, #eblcontainer .eblpsmenu li.active a {
	color:#777;
	background: #ffffff;
	background: -moz-linear-gradient(top, #ffffff 0%, #fffcf4 100%);
	background: -webkit-gradient(linear, left top, left bottom, color-stop(0%,#ffffff), color-stop(100%,#fffcf4));
	background: -webkit-linear-gradient(top, #ffffff 0%,#fffcf4 100%);
	background: -o-linear-gradient(top, #ffffff 0%,#fffcf4 100%);
	background: -ms-linear-gradient(top, #ffffff 0%,#fffcf4 100%);
	filter: progid:DXImageTransform.Microsoft.gradient( startColorstr='#ffffff', endColorstr='#fffcf4',GradientType=0 );
	background: linear-gradient(top, #ffffff 0%,#fffcf4 100%);
	border:1px solid #777;
	-moz-box-shadow:0 0 3px #999;
	-webkit-box-shadow:0 0 3px #999;
	box-shadow:0 0 3px #999;
	margin:0 10px 5px 0;
	cursor:default;
}

#eblcontainer .eblpsmenu a:focus {
	-moz-box-shadow:0 0 3px #777 inset;
	-webkit-box-shadow:0 0 3px #777 inset;
	box-shadow:0 0 3px #777 inset;
}

#eblcontainer input[type="button"],
#eblcontainer input[type="submit"] {
	padding:5px 9px;
	font-weight:bold;
	color:#666;
	background: #ffffff;
	background: -moz-linear-gradient(top, #ffffff 0%, #efefef 100%);
	background: -webkit-gradient(linear, left top, left bottom, color-stop(0%,#ffffff), color-stop(100%,#efefef));
	background: -webkit-linear-gradient(top, #ffffff 0%,#efefef 100%);
	background: -o-linear-gradient(top, #ffffff 0%,#efefef 100%);
	background: -ms-linear-gradient(top, #ffffff 0%,#efefef 100%);
	filter: progid:DXImageTransform.Microsoft.gradient( startColorstr='#ffffff', endColorstr='#efefef',GradientType=0 );
	background: linear-gradient(top, #ffffff 0%,#efefef 100%);
	border:1px solid #777;
	box-shadow:0 0 3px #999;
	text-decoration:none;
	margin:1px;
	cursor:pointer;
}

#eblcontainer input[type="button"]:hover,
#eblcontainer input[type="submit"]:hover {
	background: #efefef;
	background: -moz-linear-gradient(top, #efefef 0%, #ffffff 100%);
	background: -webkit-gradient(linear, left top, left bottom, color-stop(0%,#efefef), color-stop(100%,#ffffff));
	background: -webkit-linear-gradient(top, #efefef 0%,#ffffff 100%);
	background: -o-linear-gradient(top, #efefef 0%,#ffffff 100%);
	background: -ms-linear-gradient(top, #efefef 0%,#ffffff 100%);
	filter: progid:DXImageTransform.Microsoft.gradient( startColorstr='#efefef', endColorstr='#ffffff',GradientType=0 );
	background: linear-gradient(top, #efefef 0%,#ffffff 100%);
	box-shadow:0 0 6px #999;
}

Step 2
Look for the showCoords funcion: function showCoords(c), now before that function you will see the closing of jQuery: });, then you will need to add my jQuery code just before that closing, for example:
	});
// simplify code goes here!
});
// not here!
function showCoords(c) {

The code
	// start simplify code --------------------------
		var customOptions = $('#eblcropdata, #ebltmbctrl p:eq(3)');

		$('#eblcropctrl p:eq(0), #ebltmbctrl p:eq(1)').hide();

		// Predefined sizes menu
		$('#eblcontainer p:eq(0)').after('<div class="eblpsmenu"><ul></ul></div>');
		$('.eblpsmenu').hide();

		$('#eblcontainer p:eq(0) a').click(function(){
			$('#eblcontainer p:eq(0) a').removeClass('active');
			$(this).addClass('active');
			$('.eblpsmenu ul').html('');
			var id = $(this).attr('id');
			if(id == 'eblcroplnk' || id == 'ebltmblnk'){
				removeCrop();
				$(customOptions).hide();
				$('.eblpsmenu').show();
				var c;
				if(id == 'eblcroplnk'){
					c = '#eblcropctrl';
				} else {
					c = '#ebltmbctrl';
				}
				$(c+' select[name="customsize"] option').each(function(){
					var name = $(this).html().split(' : ');
					$('.eblpsmenu ul').append('<li><a href="#">'+name[0]+'</a></li>');
				});
			} else {
				$('.eblpsmenu').hide();
			}
		});

		$('.eblpsmenu a').live('click', function(event){
			event.preventDefault();
			addCrop();
			$('.eblpsmenu li').removeClass('active');
			var id = $('#eblcontainer p:eq(0) a.active').attr('id');
			var sindex = $(this).parent().index();
			var select;
			if(id == 'eblcroplnk'){
				select = '#eblcropctrl select[name="customsize"]';
			} else {
				select = '#ebltmbctrl select[name="customsize"]';
			}
			$(select+' option:eq('+sindex+')').prop('selected', true);
			$(select).change();
			$(this).parent().addClass('active');
			if($(this).html() == 'Custom'){
				$(customOptions).show();
			} else {
				$(customOptions).hide();
			}
		});

		$('#eblimgcrop, #ebltmbcrop').val('Create');

		$('#ebltmbctrl select[name="customsize"]').change(function(){
			var id = $('#eblcontainer p:eq(0) a.active').attr('id');
			var value = $(this).val().split('x');
			if(value == 'Custom'){
				$('#eblcontainer input[type="checkbox"]').prop('checked', false);
				if(id == 'ebltmblnk'){
					$('#ebltmbW, #ebltmbH').val('');
				}
			} else {
				$('#eblcontainer input[type="checkbox"]').prop('checked', true);
				if(id == 'ebltmblnk'){
					$('#ebltmbW').val(value[0]);
					$('#ebltmbH').val(value[1]);
				}
			}
		}).change();
	// end simplify code --------------------------

Then click on Save and you are done! Enjoy :)